Are you in need of more storage space?
Take a look at what I found on the internet. I think I did a pretty good job on doing the searching for you. I admit I only did a day worth of searching, yeah, not all week but I think I found some pretty good information and possibly found what you are looking for.
Check out the many designs I found, I know my favorites, I am going to attempt a garden storage shed.
You get thousands of designs and styles of sheds!
From large outhouses, garages to small storage and garden sheds…
I also found another blog with tons of information and plenty more free plans.  Each shed is unique and beautiful photos included. Thank you Morning Chores.
https://morningchores.com/shed-plans/
Get 25, Absolutely FREE
Storage Shed Plans
An assortment of shapes and sizes for all you storage needs.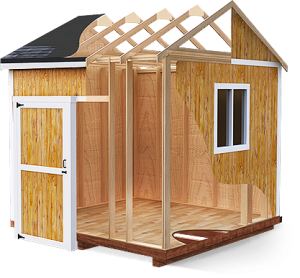 I thought I was about done when I came across another one,
http://www.diywwplans.com/page-two-projects-for-sheds.htm
Once I got started it was quite hard to quit, just so many good sources.
I will post once I complete my Garden shed, just hoping it won't be to hot this summer.
Get out your tools and start your ideal shed today.  I hope I helped get you off to a good start by sparking your imagination.
Get out and Do it.
Click Here!
If you have a shed or storage you have already designed please share with us.
TerryAnn
featured photo www.popularmechanics.com